anmelden
Loggen Sie sich hier ein.
Kundenkonto anlegen
Durch Ihre Anmeldung in unserem Shop, bewegen Sie sich um einiges schneller durch den Bestellvorgang, können mehrere Adressen anlegen, können Ihre Aufträge verfolgen und vieles mehr.
Benutzerkonto anlegen
Versand und Rückgabe
Shipping
Delivery within the Netherlands
Order before 15:00 on business days for next day delivery to your doorstep, orders placed after 15:00 will be delivered within 1-2 working days by DPD. Once the order is dispatched from the Creenstone warehouse you'll receive an email with tracking information. If you're not home, the courier will leave instructions how to pick up your package at the nearest post office.
International delivery
Below is an overview of our international shipping rates and estimated delivery times. We work with DPD.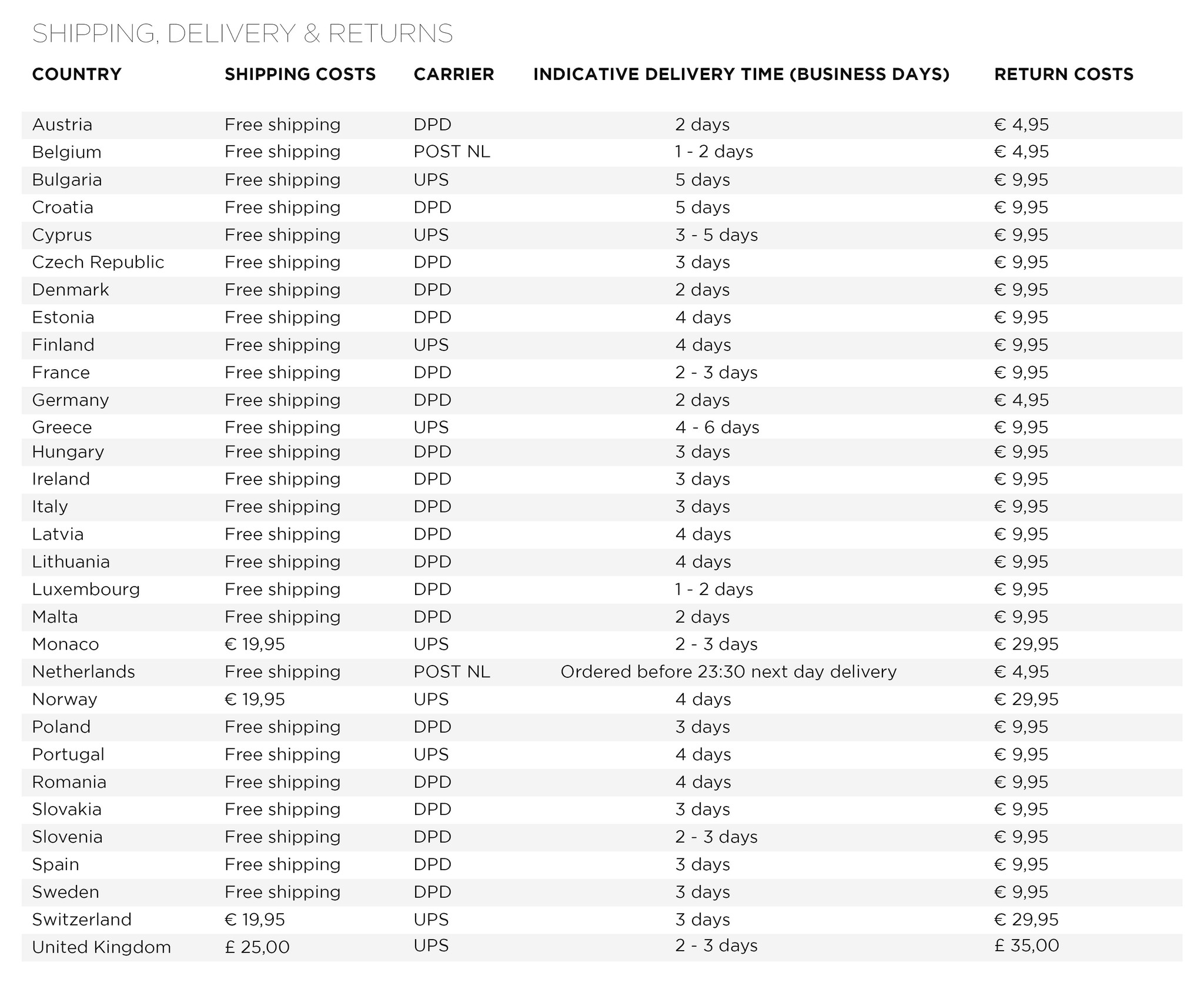 Don't see your country listed or have another question? Don't hesitate to pick up the phone – or mail to [email protected] Customer Care Department: +31 (0) 20 8513859
Incomplete delivery
We work our hardest to deliver your order complete and on time. If there is an item missing or something is wrong with your order, get in touch within 7 days of delivery and we'll help you.
Need to send an item back? Returns can take up to 2 weeks to process, but if you have not heard from our Customer Care team in the meantime, please don't hesitate to pick up the phone.
CALL US
We are available between 09:00 and 17.00 every weekday for all your questions.
+31 (0) 20 8513859
E-MAIL US
You can e-mail us 24 hours a day, Mail to:
Return
So you've received your order, but something's not as expected. We accept returns of all items purchased from our website within 14 days past the delivery date.
Please note that the return costs are for the customer. If you return multiple items, we advise you to do so in one return. Read more about our return policy below.
When can I return?
We offer you 14 days to reflect if you want to keep your purchase.
The original hangtags must be attached to the returned item.
Return form
We want this to go smoothly, so please fill in the returns form and include it in your return. Please note that we are not responsible for any missing, late, or damaged returns.
Refund
Depending on your bank, it can take up to 5 working days to process and get your refund to you.
Change or cancel my order
Because of our semi-automated system, once you've placed and paid for an order on www.creenstone.com there's no going back. You will need to receive and return your order as described above.
Can't find the answer to your question, or been waiting for more than 14 days for your returns? Get in touch with our friendly Customer Care Team.
CALL US
We are available between 09:00 and 17.30 every weekday for all your questions.
+31 (0) 20 8513859
E-MAIL US
You can e-mail us 24 hours a day, Mail to: